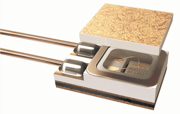 Interested in knowing more about how to correctly install a sensor in a cryogenic application and to avoid common installation errors? Then be sure to join us for our June 18 webinar, "Cryogenic Temperature Sensors: Installation Techniques for Success."
Hosted by IOP Publishing and presented by Dr. Scott Courts, Lake Shore Senior Scientist/Metrologist, the webinar will cover helpful, practical tips on how to choose the right type of sensor and packaging for a specific application and then summarize best practices for minimizing installation errors and ensuring superior thermalization in a cryogenic installation.

Topics will include:
Considerations for choosing a sensor (including resistance to magnetic fields, ionizing radiation, UHV and others)

The role of packaging and adapters for shielding, mounting, stability, and optimal thermal contact

Considerations for sensor installation (placement, mounting method, materials, electrical connections, heat sinking, thermal contact medium, etc.)

A look at the choices for fastening materials, wire leads, thermal mediums and adhesives.
To register for the 10 – 11 a.m. (EDT), June 18 webinar, visit the IOP Physics World webinar page.