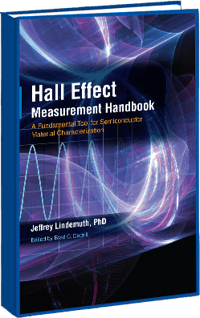 If you're interested in learning more about Hall effect measurements, be sure to download our new Hall Effect Measurement Handbook: A Fundamental Tool for Semiconductor Material Characterization.
Written by Lake Shore Senior Scientist Dr. Jeffrey Lindemuth, this 88-page handbook is a valuable, comprehensive resource for both new and experienced material researchers, covering topics such as:
The theory of Hall effect measurements

Methods to measure the resistivity and Hall coefficient of materials

The major sources of measurement errors, both intrinsic and geometric sources of errors

The methods to minimize the effects of these errors
As you will see when reading this handbook, that while the materials of interest have evolved over time, so have the methods to minimize measurement errors of these materials. Download the guide to help ensure your Hall measurements are accurate and repeatable, particularly when researching semiconductor materials.