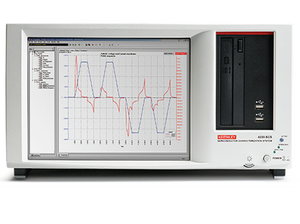 We have previously discussed how you can use a Lake Shore probe station's temperature controller with a Keithley semiconductor characterization system to automate temperature measurements. Now it's an even easier integration process. This is because Keithley is including a driver for our Model 336 controller in the latest version of their Model 4200 analyzer software release (KTE Interactive V9.1). The included 336 library enables easy integration of Model 336 variable temperature control within the Keithley test environment so you can make temperature-dependent transport measurements using the 4200's programming interface.
Having this integrated solution makes it simple to programmatically step through and take measurements at each temperature point in a semiconductor R&D application, which can be a time-saver for many users—especially those who need to measure I-V curves or sheet resistance at a number of temperatures. It can be particularly helpful, for instance, when characterizing pHEMT devices at various cryogenic temperatures. When used in conjunction with Lake Shore's patented CVT probe tips, the Keithley analyzer can be used to run a diverse set of probed device measurements over a range of temperatures without any repeated intervention.
For more information, including how to upgrade an existing 4200 system's software to enable integrated Model 336 temperature control, contact sales@lakeshore.com. Also be sure to visit the Keithley website to log in and view the KTE Interactive V9.1 release notes.