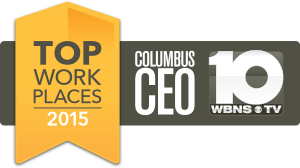 Announced just this week, Lake Shore been selected as one of the Top Workplaces in central Ohio by Columbus CEO magazine and WBNS-10TV. Employers on the Top Workplaces list are chosen based solely on employee feedback through surveys conducted by WorkplaceDynamics, LLP, a leading research firm on organizational health and employee engagement.
In addition to Lake Shore being named to the 2015 Top Workplaces list, our company also received a special appreciation award from Columbus CEO and WBNS-10TV, based on our employees saying they "feel genuinely appreciated" at Lake Shore.
The Lake Shore leadership team attributes much of this to offering employees challenging assignments where they have a larger role in decision-making.
"It's all about building an encouraging workplace culture," says Michael Swartz, President and CEO of Lake Shore. "We employ a number of smart people from a variety of backgrounds and disciplines, and in order for us to realize their full potential and make their work more enriching, we have enabled them to make more decisions—all of which makes for a positive work atmosphere and a stronger business for Lake Shore. I am pleased to see this has translated into our being recognized."
Columbus, OH, USA