This three-part Q&A features insights from three employees who played key roles in the design of the new MeasureReady™ 155 I/V source as well as the new XIP (pronounced "zip") platform, Lake Shore's entirely-new instrument platform:
Adam Porsch,

technical project lead and embedded firmware developer on the project

David Plaga,

principal engineer responsible for implementing the XIP platform on the 155

Dave Ghioldi,

industrial designer and XIP user experience designer
A lot of thought goes into developing a new product. Can you provide some background on how the idea for this current and voltage source came about? For instance, did Lake Shore see certain needs that weren't being met in the scientific community?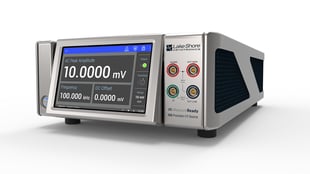 Adam: Over the years developing instruments, we've become proficient at developing AC and DC voltage and current sources that were required to excite a sensor in order to perform a measurement. So we decided to make an AC/DC current and voltage source and, in doing this, combine it with a new, modern touchscreen interface. As far as the need in the scientific community, there are many DC-only sources in the market, but we're hoping to meet the requirements of customers who need the combined functionality in one instrument.
David P.: The idea for this project started way back in 2000 – I even found some schematics dating to September of that year. At that time, I was working on a calibration station for one of our new instruments, and we needed a voltage standard for some of our calibrations. Even though the one we were using was relatively new to the market at the time, it seemed, well, outdated. I was frustrated with the user interface and overall performance of the unit, and I was confident we could do better. Our instruments contain many of the same circuits that would be in a voltage or current source. I knew we had the talent here to make one that performed well and was easy to use.
Dave G.: For me, my perspective was a little different. These two guys and the rest of the team had the experience developing high-quality measurement circuitry. I was more focused on the new platform architecture for the precision source. Employing ideas conceived through advanced development projects, the architecture decouples the design requirements and constraints of the output circuitry from those of the software user interface in a way that allowed us to optimize them independently. The result is an instrument that is an aide, rather than an obstacle, in the acquisition of good data.
What were your main goals when setting out to design this current/voltage source?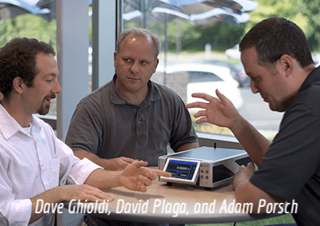 Adam: Combining a simple and easy-to-use interface with the high performance and quality our customers have come to expect.
David P.: I would say, creating an instrument that was simple to use with an output that was accurate. I wanted it to be a great tool that would be a go-to instrument because it just works.
Dave G.: We set out to design an instrument that enables our customers to focus on their data. For this, we had some key software goals: to be intuitive, to communicate clearly, and to be helpful. Also, a fundamental hardware goal was to uphold Lake Shore's commitment to delivering on our published specifications.
The tagline associated with this product is "Built for Science. Designed for People." Can you explain what went into the 155's design that prompted the company to begin describing it this way?
Adam: That's really driven by the user interface. The idea was to take the same experience one has with their smartphone and translate that into the instrument. Our thinking was, when a user first powers up the unit, the intent is to have them up and running quickly, with minimal or no reading of the manual. Of course, the complexities of the hardware and software are still there in order to make the instrument perform to the levels that our customers expect, but the primary goal was to abstract that from the user.
David P.: Also, when talking about what went into the design, we knew, number one, was that the instrument needed to perform properly. The quality and accuracy of the output had to be a high priority. Scientists cannot waste time doubting the quality of their instrumentation. This cannot stand on its own though. If the instrument is difficult to use, then time is wasted there as well. In the end, it is a tradeoff between flexibility and usability. So how many features can we still offer while keeping it easy to use? Is there a better way to present these features? In some ways, a good user interface is more difficult to design than the circuitry. With circuitry, the performance can be measured with a meter or an oscilloscope. A good user interface is much more difficult to quantify.
Dave G.: Yes, it is more difficult, and a lot of it has to do with accessibility. Scientific research applications require high-quality, high-performance instrumentation to push the boundaries. However, this alone isn't sufficient. High performance is not useful if it is not accessible. So to effectively utilize this performance, the goals and limitations of the user must be considered an integral part of the design. In some ways, instruments developed to meet these demanding requirements are analogous to race cars. These purpose-built vehicles are a testbed for pioneering new ideas, testing new technologies, and learning best practices. And the lessons learned translate into better products for a broader range of applications. At Lake Shore, we have a long history of developing products for cryogenic, magnetic, and material characterization applications, and the lessons learned when developing those products have been applied to the development of the MeasureReady 155 source.
Look for Part 2 of the Q&A: More about the touchscreen and the role of user testing
---
The MeasureReady™ 155 Precision I/V Source is now shipping.