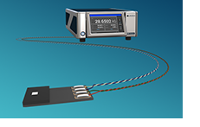 Would you like the measurement simplicity and performance of a teslameter/probe combination while also having the installation flexibility of a Hall sensor? Our new 2Dex™ plug-and-play Hall sensors may be what you need.
These innovative sensors connect directly to the F71 and F41 teslameters and offer:
A convenient quick in-line connector that simplifies installation

Various teslameter cable lengths to choose from

Sensor calibration data that is stored on the connector

A small active area for improved measurement accuracy

An integrated thermistor for temperature compensation

A wide operating temperature range.
As premium, research-grade sensors, the 2Dex plug-and-play sensors are ideal for any application where the accuracy of measurement is key. Fully calibrated, the sensors possess the same linearity compensation and precision measurement capabilities of our new FP Series Hall probes, but without a handle and stem preventing use in tight spaces.
They are also ideal if you want a high-performing sensor but don't want to build your own measurement circuit or apparatus. Simply plug them in and get field values instantly. There isn't any need to make your own voltage measurement and the conversions required to get to an accurate field reading — the instrumentation does this for you.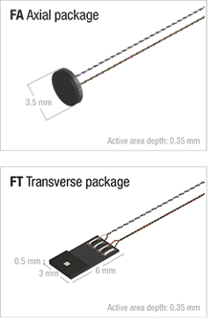 The first versions introduced are our single-axis "FA" axial and single-axis "FT" transverse packages, where the sensor chip is mounted to a ceramic body. These are available with a 2, 6, or 15 m teslameter cable, but you also have the ability to add extension cables if you need to extend the sensor wire further. Like the wiring used for the sensor leads, these extension cables are cryogenically rated, enabling use within a cryostat or other low-temperature experiment environments.
Also coming soon: a single-axis "AI" axial package, where the package is narrow rather than flat, as well as a unique "3D" three-axis version, the first three-axis sensor produced by Lake Shore.
More information can be found on the 2Dex plug-and-play Hall sensors webpage.