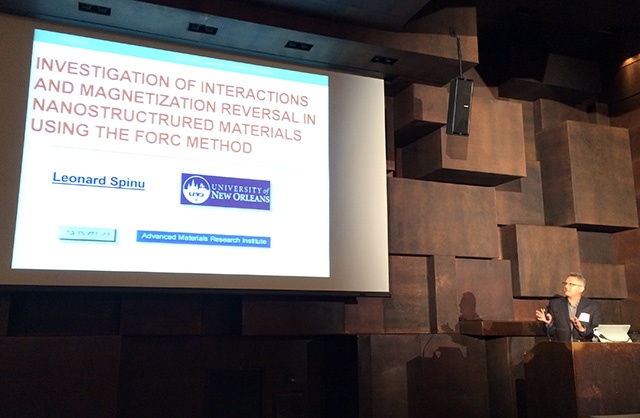 Last summer, Lake Shore joined with the University of Minnesota in sponsoring a workshop devoted entirely to the use of first order reversal curves (FORCs) for magnetic material characterization. It was quite informative, and at its conclusion, workshop organizers discussed the possibility of holding it again on either an annual or semiannual basis before or after a major magnetics research conference.
We're happy to report that it will occur again this year, with the 2nd Annual FORC Workshop now scheduled be held Sunday, Oct. 30, the day before the start of the 2016 Magnetism and Magnetic Materials (MMM) conference in New Orleans. The workshop, like the conference itself, will take place at the New Orleans Marriott and, as with last year, Lake Shore is sponsoring.
Two speakers from the 2015 workshop, Dr. Leonard Spinu of the University of New Orleans Advanced Materials Research Institute and Dr. Alexandru Stancu of Al. I. Cuza University, are serving as co-chairs of the organizing committee, which also includes:
Dr. Fanny Beron, Institute of Physics Gleb Wataghin, Universidade Estadual de Campinas (Brazil)
Dr. Randy Dumas, Department of Physics, University of Gothenburg (Sweden)
Dr. Josh Feinberg, Institute for Rock Magnetism, University of Minnesota (USA)
Dr. Victorino Franco, Condensed Matter Physics Department, Sevilla University (Spain)
Dr. Richard Harrison, Department of Earth Sciences, University of Cambridge (UK)
Dr. Kai Liu, Physics Department, UC-Davis (USA)
The day's events will include a symposium of speakers (to be announced later) discussing FORC theory and best practices for acquiring and processing of FORC data. More information will be announced as it becomes available at the official workshop site, but you can register now by following the link from that site. (NOTE: Registration is limited to 75 participants.)
And to get an idea of the topics discussed at the workshop, here are photos and videos from last year's gathering.