New 8600 VSM
Since the unveiling of the new 8600 Series VSM in October, we have made it a point to emphasize how it has raised the bar for measurement performance. The system electronics, mechanical assemblies, and sensing coils all feature an advanced design, enabling the 8600 Series to achieve unparalleled sensitivity and measurement speed for an electromagnet-based VSM.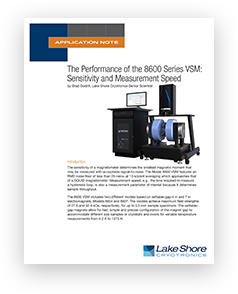 Sensitivity determines the smallest magnetic moment that may be measured with acceptable signal-to-noise. Various design factors influence how sensitive of a measurement is possible by a VSM, including the amplitude and frequency of the mechanical drive, the proximity of the sensing coils to a sample under test, etc.
Low-moment materials application note
In this new app note, Brad Dodrill, Lake Shore Senior Applications Scientist, discusses these factors and presents typical noise measurement results and hysteresis loop measurements of low-moment magnetic materials. Based on extensive in-house performance testing, we have updated the noise floor spec to 25 nemu!
This level of sensitivity, and the resulting speed, particularly benefits first-order-reversal-curve (FORC) measurements. The app note covers this, showing hysteresis loop and FORC results recorded in seconds and minutes, respectively.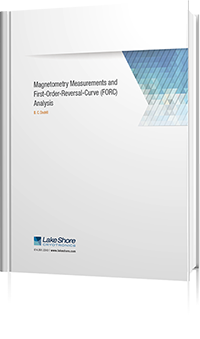 The 8600 Series VSM was created with FORC measurement as a primary objective; therefore, we are pleased that in-house testing has confirmed that it is capable of flying through complex FORC data collection sequences in a fraction of the time required on previous systems.
Get the FORC ebook
If you want to know more about FORC analysis, we have a
that goes into detail about how this technique can benefit research into various magnetic materials (nanoparticle-based nanocomposite materials, single- and multi-phase permanent magnetic materials, magnetic nanowire arrays, and others).