We are always seeking new ways to bring Lake Shore technology to more researchers in more fields and to help advance their work. To this end, Lake Shore recently became a Solutions Partner of Keysight Technologies, a collaboration that will enable Keysight analyzer users to more easily characterize materials over a range of temperatures in semiconductor R&D applications.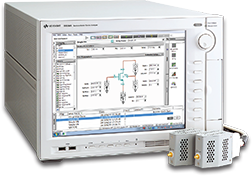 The first focus of this collaboration is our co-development of drivers to integrate Keysight's B1500A Semiconductor Device Parameter Analyzer with Lake Shore's Model 336 temperature controller. This new interface, to be made available in the coming months, will enable researchers using the B1500A and its EasyExpert™ software to centrally automate temperature-dependent material and device measurements in a Lake Shore cryogenic probe station. With the help of the temperature controller driver, you will be able to initiate the EasyExpert™ software to run a diverse set of parameter measurements over a range of temperatures while you attend to other matters.
And our collaborative efforts will continue in other areas, too. For instance, we are currently working with Keysight to bring the same level of automated temperature control to several of their other instruments, and we will be spotlighting our integrated measurement solution at industry conferences and events. This includes the upcoming MRS Fall Meeting & Exhibit in Boston, where we will have a B1500A analyzer in our booth, demonstrating its interoperability with our Model TTPX cryogenic probe station.
If you are going to MRS Fall, please be sure to stop by Booth 501 to discuss how such a setup can benefit your particular work.