In response to a request made by a Connecticut teacher via our Facebook page, Lake Shore had the pleasure of helping two budding scientists prepare for the Intel International Science and Engineering Fair (ISEF), which was held in Pittsburgh in May.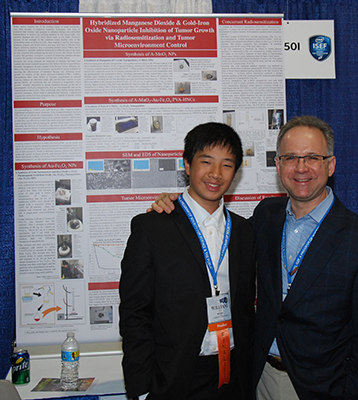 The two Greenwich (CT) High School students had earlier this year synthesized novel Fe3O4 based nanoparticles but had no way to measure a magnetic hysteresis loop for their particle samples. That's when their teacher, Andy Bramante (a former spectroscopy support scientist with PerkinElmer) reached out to us through Facebook. Brad Dodrill, Lake Shore Senior Scientist, took measurements of the "core-shell" nanoparticle samples using a Lake Shore VSM and forwarded the hysteresis loop data to the teacher.
Shown here with Andy at the ISEF fair are the students, William Yin and Margaret Cirino, whom Brad assisted.
William, who ended up taking 2nd place in the Material Science category, entered a poster proposing an innovative way to slow the growth of malignant cancerous tumors, "Hybridized Maganese Dioxide & Gold-Iron Oxide Nanoparticle Inhibition of Tumor Growth via Radiosensitization and Tumor Microenvironment Control." For this, he created tiny magnetically responsive structures that when positioned next to an active tumor can be used to stabilize pH and convert peroxides to oxygen to slow the aggressiveness of the malignancy. At the same time, the plasmon resonance of the nanoparticles can help with more targeted radiation treatment of cancerous cells.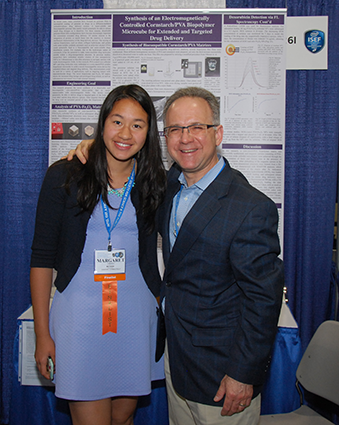 Margaret's entry, "Synthesis of an Electromagnetically-Controlled Corn-Starch/PVA Biopolymer Microstructure for Extended and Targeted Drug Delivery," also had to do with finding a better way to treat cancerous tumors. In it, she proposes the use of magnetic novel polymer microstructures for time-released, localized delivery of chemotherapy drugs to a tumor site without harming neighboring healthy cells—a method made possible, in part, with the help of an external magnet.
We extend our congratulations to William and Margaret, as well as the entire Greenwich team (at ISEF, four of the students took home top awards), and wish them well in future scientific pursuits.
Lake Shore was happy to help, and we should note, we are also open to assisting other students, at any school, with similar requests. We see this as yet another way to promote STEM pursuits at the pre-college level. So if you or your students need a measurement, just ask, and we'll see what we can do.