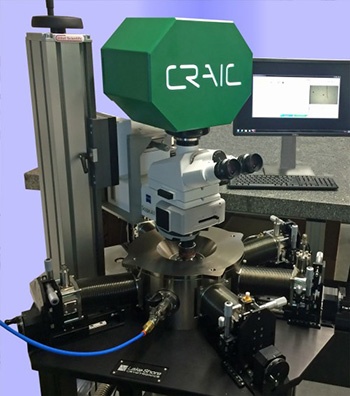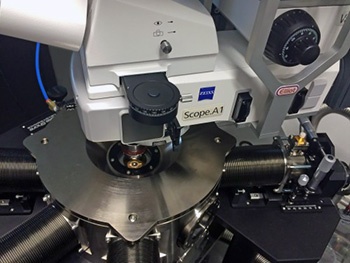 Thanks to Elliot Scientific, our authorized dealer representative in the U.K., for calling this to our attention: an interesting Lake Shore CRX probe station configuration, one that has a spectrophotometer integrated into its design. This customized probe station, recently installed at the University of Southampton's Centre for Photonic Metamaterials, features an integrated CRAIC Technologies InGaAs Spectrophotometer and Zeiss microscope. In this setup, researchers are able to observe optical properties of nanostructured materials at cryogenic temperatures. Elliot Scientific, who is quite knowledgeable of both Lake Shore and CRAIC products, was able to offset mount a Zeiss microscope carrying the spectrophotometer onto the probe station. A dished lid was added to allow the station's use with the spectrophotometer, and the microscope utilizes a custom-manufactured rig to provide smooth movement in three axes above the sample chamber. The probe station offers conventional top-side illumination down the axis of the microscope, but for this setup, the station was also adapted to provide sample illumination from the side, with the light then directed upward using a 45° mirror under the sample holder to provide illumination to the back of the sample.
Lake Shore probe stations can be adapted in other ways, too. In the past year, custom configurations have been provided for:
A CRX-EM-HF built to allow for the mounting of a pivoting and articulating microscope-based system analyzer head at the top for the visualization and analysis of micro structures; this design necessitated the use of a dished lid and custom radiation shield assembly to reduce Z-axis travel.
A CRX-VF probe station adapted to allow for the connection of a load-lock arm to a deposition system, a design that allows the user to mechanically move a sample from the deposition system to the station and back without breaking vacuum.
A CPX probe station with a modified load lock sample transfer chamber that enables university researchers to easily move sensitive wafer samples from an inert gas glovebox via the sample-transfer "suitcase" to the station's chamber without exposing them to the air.
For more information about what Lake Shore and our international representatives can do to help you outfit a probe station for a specialized application, please contact us at sales@lakeshore.com.