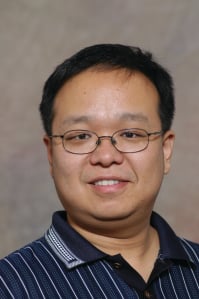 Lake Shore congratulates Dr. Hao Xin and Min Liang of the University of Arizona on their article featured in the January/February 2014 issue of IEEE Microwave Magazine entitled "Microwave to Terahertz." Dr. Xin and his group in the Electrical and Computer Engineering Department are collaborating with Lake Shore's THz development team on our Phase I Air Force STTR grant and, more recently, our Phase II STTR grant.
In the article, Dr. Xin and Min focus on the challenges and progress made characterizing carbon-based nanotubes (CNTs) and graphene samples at microwave and THz frequencies. As noted in the article abstract: "The characterization techniques of nanomaterials at microwave and THz frequency are important for both fundamental research and practical applications before proposed components such as antennas, interconnections, and circuit building blocks can be realized."
For their research, Dr. Xin's group used both time-domain (TDS) THz spectrometer and THz frequency vector network analyzer technology to extract the electronic properties of nanomaterials in ambient conditions; the Lake Shore/University of Arizona collaboration is focused on extending this analysis to our continuous-wave THz materials characterization system. Using specially designed continuous wave (CW) THz emitter and detector components, samples are characterized while exposed to variable cryogenic temperatures and magnetic fields. Because of Professor Xin's recognized work in the area of microwave, millimeter wave, and THz device research, we're looking forward to working together to develop and mature CW-THz spectroscopy for materials characterization.