Scientists from Lake Shore and Radiant Technology collaborated to characterize the performance of ferroelectric capacitors at cryogenic temperatures. These devices can be used for temperature, pressure, or displacement sensing, and similar devices could have applications for microfluidic pumps and optical beam steering. Using the electrically quiet environment inherent in the Lake Shore CRX-EM-HF probe station, as well as Radiant Techonologies' ferroelectric test system, the scientists were able to rapidly build up the measurement and characterize the ferroelectric properties of these devices.
Using micromanipulated electrical probes, a voltage was applied across the ferroelectric device – causing the electrical polarization of the crystal to switch. In the plot below, the coercive field shifts to higher bias at lower temperature – changing from 7 V at 300 K to 20 V at 6.5 K.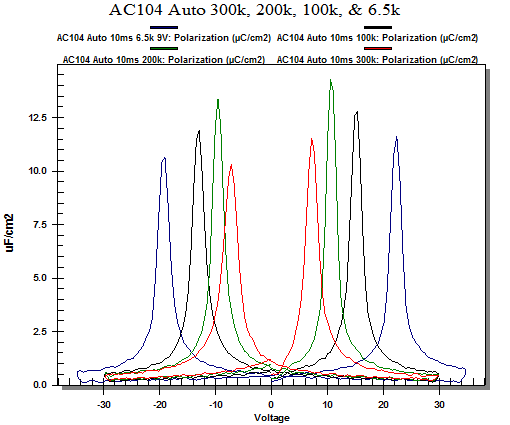 The videos show that this particular capacitor is a membrane that physically moves 2 µm at room temperature when actuated at 20 V. Total displacement at 6.5 K has not yet been measured but is visibly diminished. You will notice a sort of "pumping" action in the video; this is due to the fact that the voltage applied to the device is oscillating.