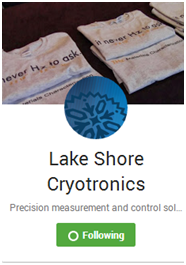 We will host our first Google+ Hangout on Oct. 29, 2013, at 2 p.m. The live webcast will focus on types of cryogenic sensors and their applications.
During the webcast, Lake Shore scientists Scott Courts and Kristine Shiffman will provide an overview of sensor types and their use for various cryogenic research applications. They will also answer questions on best-fit sensor materials and technologies.

Here's how you can participate:
RSVP to the Google+ Hangout on its event page (this is optional – you can still watch the Hangout even if you don't RSVP).

Submit a question with the hashtag #askLakeShore on Twitter or Google+. You can submit as many questions as you want leading up to and even during the webcast.

On Oct. 29 at 2 p.m., go to Lake Shore's Google+ Page, and click on the video streaming on the main page. It should say "On Air."

Ask another question, or just watch and learn!
The webcast will also be available for later viewing on Google+ and YouTube.
Hope to see you there!