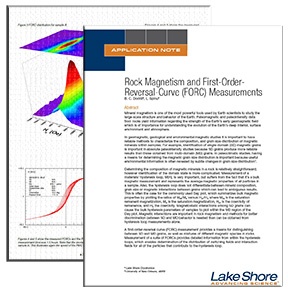 We recently published an application note titled Rock Magnetism and First-Order-Reversal-Curve (FORC) Measurements. Written by Brad Dodrill, this paper discusses the usefulness of FORC measurements for studying the magnetic properties of rocks. In geomagnetic, geological, and environmental studies, it is important to have reliable methods to characterize the composition and grain size distribution of magnetic minerals. Knowledge of the grain size distribution is vital in paleoclimatic studies, and differentiating between single-domain and multi-domain behavior is essential in paleointensity studies.
Dodrill shows that FORC measurements are indispensable in determining the distribution of switching fields and interaction fields for all particles that contribute to a hysteresis loop and provide for mineral and domain state discrimination.
Click on the image of the app note on this page, or check it out on the downloads section of our page for the PMC MicroMag™ 3900 Series VSM.