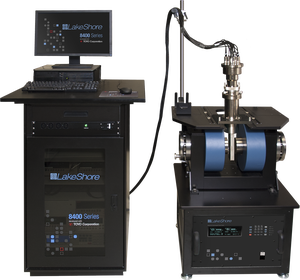 In 2012, we were pleased to introduce several new products to our portfolio, including the Model 8404 Hall measurement system (HMS). The 8400 Series was a joint venture with Toyo Corporation in Japan. We combined the unique strengths of our company's products and developed a new AC and DC field HMS. The AC measurement technology offered in the Model 8404 has been adapted from techniques proven in Japan for over 15 years, and it allows the measurement of mobilities down to 0.001 cm2/V s.
This video series will take you through the basics of a Hall measurement and the differences between an AC field and DC field Hall measurement. Separate videos will also provide brief overviews of the major components of the system. This list of articles and videos will be appearing on our blog over the course of the next ten days and is provided to give you more understanding of the Model 8404 Hall measurement system.
You can access the literature, including the specifications, for more information on the HMS overview page on our website. You may also read an article, Hall mobility measurement of solar cell material by one of our physicists, Dr. Jeffrey Lindemuth, which appeared in Semiconducting Materials in 2012.