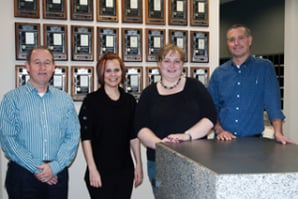 Welcome to the new Lake Shore Blog, where we will be sharing information and discussing topics that are of interest to you, our customers and colleagues, as well as covering news about our company that will give you a different look at what's going on at Lake Shore. We hope this blog will be a platform for generating discussions on topics in our industry, and we invite you to read, comment, and suggest topics you would like to see us write about. As part of our welcome blog post, we'd like to let you know what types of posts you can expect to see on this blog.
What to Expect
We welcome your thoughts, and will add topic categories to serve your interests. As we get started, you can expect to find posts on the following topics.
Case Studies
In the Case Studies category of our blog, we'd like to write about active research projects and applications where you are putting our products to the test. If you have worked with us in the past, we'd love to feature you and your work on this blog. If you are interested in getting the word out about your research, please contact Keith Ramsey at his email: keith.ramsey at lakeshore dot com.
Product Tips
We love our employees, and we will share their expertise with you. While we've had a FAQs page on our website, the Product Tips category will bring you insights and observations from our engineers, scientists and service experts who work with these products every day. We will gather questions from you, the very people who use our products, to prompt us for topics in this category.
Research and Applications
Research scientists like you are at the heart of Lake Shore. Our technology innovations are powered by our love of learning. In the Learning category, you can expect to find articles from our physicists and engineers who are constantly researching and experimenting. We are committed to the exchange of ideas and our goal is that our findings will help you in your research.
People
This category will be used to highlight some of the people in our industry, their research, their interests and their achievements. We will also use the People category to give you a glimpse into some of the careers of our employees here at Lake Shore.
News
If we have a new product coming out, you can be sure to find out more about it in this category on our blog. We will also use the News category to let you know which conferences we will be attending, collaborations, and other noteworthy events that occur at Lake Shore.
When To Expect It
Starting January 2, 2013, we will be posting each Wednesday. So be sure to check back every Wednesday for new posts, or subscribe to our blog using the entry in the right hand column. In the meantime, we hope to connect with you on our Facebook page and Twitter account as well.