We have enabled a buffered data streaming feature on our new teslameters to eliminate latency issues when recording field measurements on a connected PC.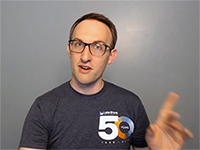 When logging and saving data from the instrument, this new capability ensures a consistent interval of field readings streamed to the PC. Also worth noting: Buffered data streaming is available for both direct USB serial or Ethernet connections as well as for connections over Wi-Fi. For more about this new feature, watch the Collaborators Program video, where Lake Shore's Ryan Oliver demonstrates buffered data streaming used in an extreme scenario.
Also, be sure to scroll down to view the next video ("Teslameters Collaborators Update 5"), where Ryan highlights the latest firmware improvements to the teslameters and how easy they are to update with every new release.