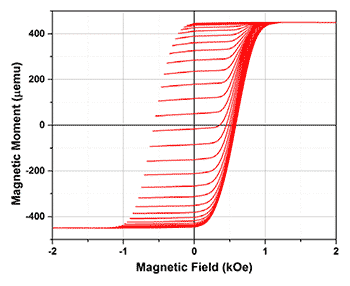 FORC diagram of an array of magnetic nanowires
You may recall us announcing last month that Lake Shore's Brad Dodrill would present a poster session, "First-Order-Reversal-Curve Analysis of Nanoscale Magnetic Materials," during the TechConnect World Innovation Conference & Expo. If you are interested in reading the paper that served as a basis for the poster session, you can download it here.
Co-authored by Dodrill and Dr. Leonard Spinu of the University of New Orleans, the paper discusses the value of first-order-reversal-curve (FORC) measurements for determining the relative proportions of reversible and irreversible components of the magnetization in nickel (Ni) nanowire arrays.
If your work involves investigating magnetic interactions in nanowires and dots, nanocomposite permanent magnets, magnetic recording media, exchange-biased magnetic heterostructures, rock sediments, and other types of materials, consider speaking to us about our MicroMag™ line of VSM/AGMs. They feature high sensitivity and very fast scanning times, making them ideal for quickly acquiring the multitude of data points necessary for generating FORC diagrams. You can even send us samples for us to measure and demonstrate the versatility of our systems for your specific research application.