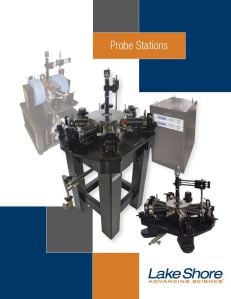 We are really excited about our new probe station catalog. We've worked very hard in making this catalog a helpful guide for you when thinking about purchasing a probe station and for future reference as well.
The new catalog includes handy resources like the family overview on pages 4 and 5, where you can quickly see which probe stations are cryogen or cryogen-free and which ones within those categories have horizontal fields, vertical fields, or no field.
If you are interested in quickly understanding which probe station will best suit your application, you can turn to page 6 for a table of the applications overview. We also provide research examples, tips for thermal management, and a brief overview of our solution to probe tip travel, the CVT probe tips.
On pages 10 and 11, you will find cost comparisons of each probe station, including what it means in terms of operating costs when you use a cryogen model versus a cryogen-free model. This chart gives you a quick, visual idea of the cost comparisons from the initial purchase of the probe station through three years of use. These pages also include a chart with probe station features represented with icons. These icons are used throughout the catalog as a visual guide to help you remember quickly which features are available with each probe station.
Of course, we also give you all the specifications for each probe station, as well as descriptions of options and configurations.
You can access and download the probe station catalog here or simply click on the catalog image.