Lake Shore attended the American Physical Society Conference held in Baltimore on 3/18 to 3/22, as we do each year. In addition to technical papers presented by David Daughton and Jeff Lindemuth, Lake Shore showed its latest products in a striking new backlit booth.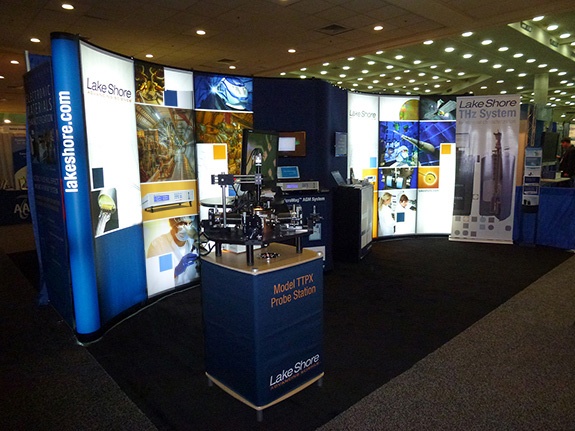 Highlights included announcement of our THz material characterization system, which attracted quite a number of new visitors to our booth to find out more about this ongoing project. Also prominently displayed were the TTPX probe station, a Model 336 temperature controller complete with the new 3062 scanner card, and information on our recently-acquired PMC magnetometers.
On Wednesday evening, Lake Shore held a special poster session reception for about 40 invited guests who took the opportunity to meet our scientists and learn more about material characterization research conducted in our VSM, HMS, THz systems, and probe stations. Whether re-connecting with existing customers or making new contacts, it is important to us to maintain a presence at these conferences to let you know that we care about the work you do and that we are always ready to help.