We recently announced the development of our new continuously variable temperature (CVT) probe in a press release last month. This month we were excited about the opportunity to get together with TOYO Corporation, with whom we collaborated on the CVT project. We received our plaques in recognition of our patent for the CVT probe and thought it worthwhile to photograph and share here on our blog.
Pictured below, left to right, is Scott Yano, Lake Shore Engineering Product Manager for Probe Stations, Shin Mizuta, Operating Officer at TOYO; Mr. Mizuta is holding a plaque for Masaki Yamaguchi Sales Group Leader at TOYO, who was not able to attend, Ed Maloof, Lake Shore Vice President of Engineering, and Chris Caudill, Lake Shore Engineer.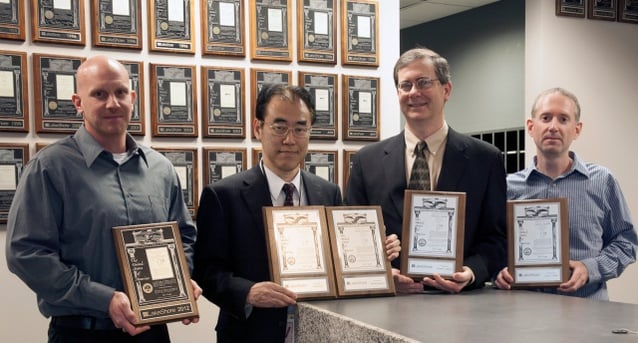 This 2-minute video shows a short animation of the CVT probe tips and how they flex with changes in temperature, but do not move from their position on the sample. Also, our probe station Engineering Product Manager, Scott Yano, shows us a real-life demonstration of these Lake Shore CVT probe tips.