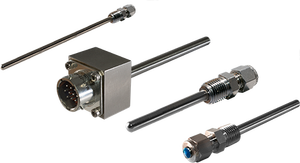 Lake Shore temperature sensors come in a variety of packages, with various mounting schemes and containers that enable mounting in very tight spaces. For some applications, especially if the sensors have to be immersed in liquid, additional protection is required. So if you are looking to measure in fluid containers, tanks, cryostats, pipes, and other liquid systems, what you likely need is a temperature probe.
Encased within the stainless steel probe thermowell fixture, the sensor can perform as designed, unaffected by elevated pressures, with electrical components and wiring protected from fluids. The probes are ideal for a number of industrial measurement and monitoring environments, such as gas liquefaction and storage. The probe rod also provides extra reach. The additional insertion length allows the sensor to be placed at the recommended depth within a vessel in order to ensure accurate temperature readings.
Lake Shore probes can be ordered with Cernox® RTD, platinum RTD, GaAlAs diode, and silicon diode sensors and in standard probe lengths up to 0.71 m (28 in) long.
If you need a more specialized probe, we also offer custom-manufactured probes. Just talk to us to discuss your application and to get you the probe you need.