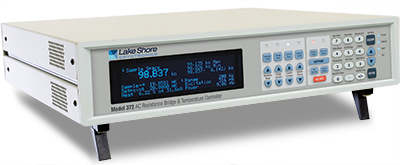 Lake Shore is now taking orders for the new Model 372 AC resistance bridge and temperature controller. This next-generation instrument represents the first major update to the Lake Shore AC resistance bridge product line since the release of our Model 370.
The features and capabilities that made the Model 370 so popular are included in the Model 372, such as the patented noise-rejecting balanced AC current source and integrated PID-controlled heater outputs. New features that further improve the functionality of the Model 372 include a new dedicated sensor input that can be used to provide continuous temperature monitoring and control, as well as full quadrature measurement on all channels to better characterize materials under test. Noise figures have also been improved, allowing more accurate and stable measurements to be made.
So if you are looking for the latest in ultra-low temperature measurement or control in your lab, read more about the Model 372 here.