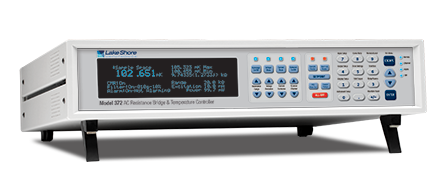 If you visited us at the APS March Meeting in Denver, you likely saw an early version of our new Model 372 on display. Or perhaps you have seen it on our website. This instrument represents the first major update to the Lake Shore AC resistance bridge platform since the release of the Model 370, and we are currently on track to begin shipping units this July. This follows several years of development, where a great deal of attention has been paid to improving both the ultra-low noise measurement capabilities, as well as the overall user experience.
This additional time spent planning appears to be paying off, too, with initial testing seeing the unit pass CE with flying colors and preliminary tests on our dilution refrigerator showing marked improvements in the measurement input and excellent results for the new control input. This new input has been added to provide dedicated temperature control, leaving the measurement input free to focus on recording experiment data.
This new control input was designed to provide an additional dedicated sensor connection point, with scaled-back measurement circuitry that provides targeted measurement of those resistance ranges associated with ultra-low temperature sensors. This simplified circuitry meant we could add this feature without increasing the price over the original Model 370. However, despite being a scaled-back version of the main measurement channel, it still represents a marked improvement over the noise performance of the original Model 370 measurement channel (see below). Who says nothing good ever comes for free?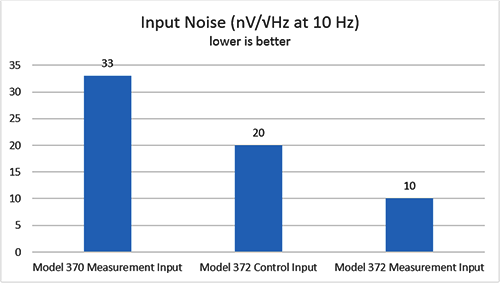 More details will be released soon. In the meantime, download our brochure, and if you have questions, please e-mail us.