Interested in seeing how a certain material of yours responds to measurement in our 8500 Series THz Material Characterization system? Then we urge you to send us your sample(s).
This new service is offered—at no charge and with no obligation—to materials researchers with suitable samples. Simply submit your sample measurement request online.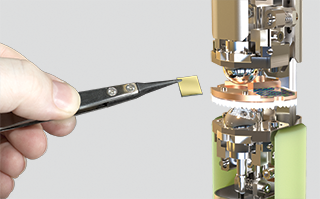 Dr. David Daughton, lead Lake Shore Applications Scientist for the THz system, will examine your request to determine if your sample is appropriate for measurement. If it is, he will then coordinate with you getting it to our lab in Ohio. Typically, Lake Shore will accept 1 to 3 samples per a requestor.
Because of the nature and complexities of THz transmission spectroscopy, characterization outcomes are very sample dependent. Fundamentally, a sample must permit sufficient THz energy to pass through for it to be measurable, and ideally the sample responds in some way to the THz energy within the system's bandwidth, temperature, and field capabilities.
Good candidate materials include:
Bulk materials
Moderately doped semiconductors
Glasses
Ceramics
Ferrites
Thin films
Semiconductors
Organic electronic materials
Nanometer-scale metal and superconducting films
Other materials may also be suitable for CW-THz characterization as a function of variable temperature and field.
The more samples we can measure, the more we all learn.
Questions? Please feel free to contact Dr. Daughton directly.